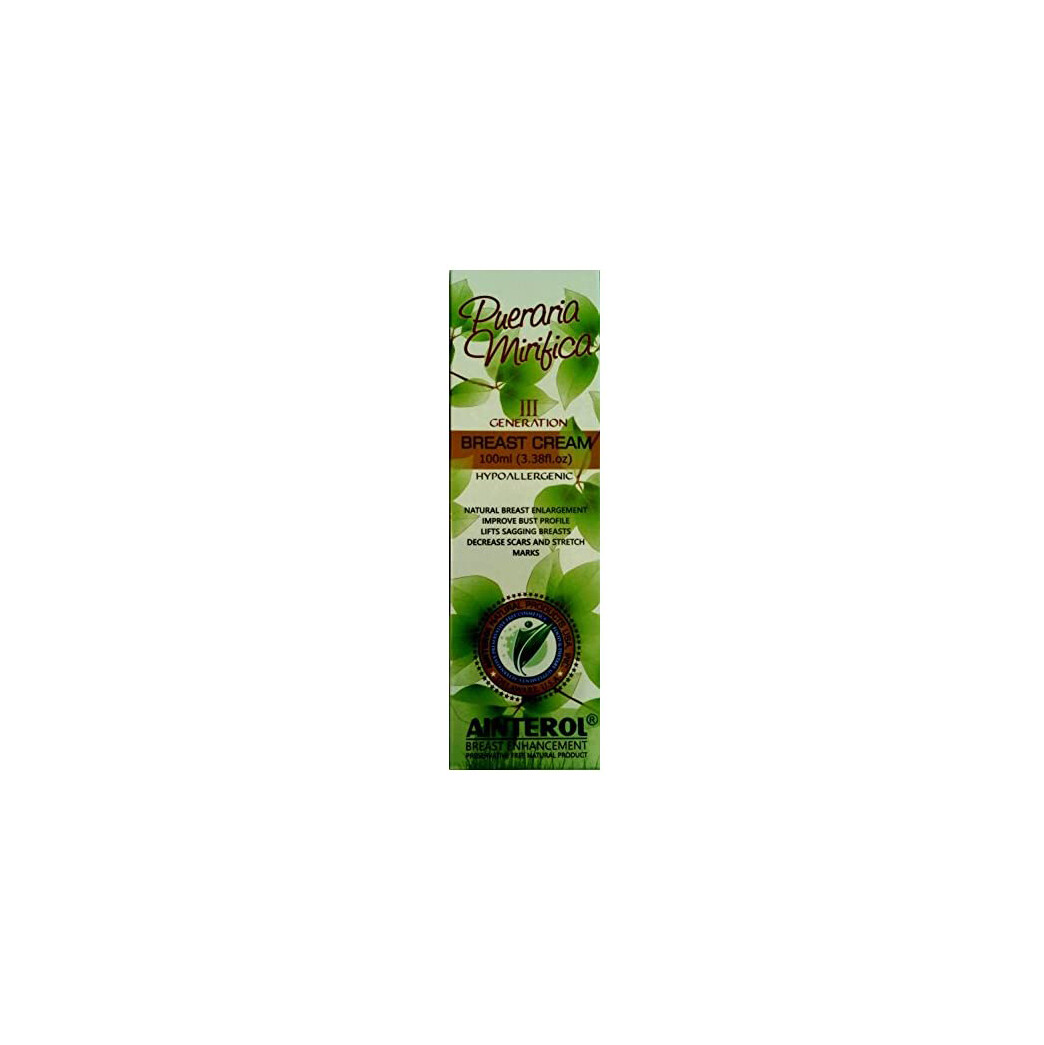 Ainterol ​Pueraria Mirifica Breast and Butt Cream 100 grams
SKU WDPH0009
Product Details
AINTEROL Pueraria Mirifica 500PURE R1 New Strongest Strain- 100 capsules x 500mgs

Contents: 100 capsules each containing 500mg of Pueraria Mirifica powder.
Purity: 100% - No preservatives, starches, fillers or chemicals added.
Packaging: Sealed for long freshness. HDPE Pharmaceutical grade bottle.

Pueraria Mirifica Benefits:
* breast enlargement treatment
* menopausal issues (against hot flashes & night sweating etc.)
* against psoriasis - noticable results often seen within a few weeks
* against acne and pimples
* anti-aging & anti-wrinkle
* stronger nails. (If you've dreamed of long real nails)
* facial skin is smoother and less oily
* better, faster & stronger hair growth (can return natural color for many)
* body tonic & body feels energetic
* increase in healthy vaginal moisture and sex drive

Pueraria Mirifica is a real "multifunctional" plant which works perfectly when taken correctly. Do not overdose. Just let it absorb and give your body time to adapt to it. It's a life changing experience. You'll literally shine after your treatment. Your body feels younger, more energetic and looks better. Skin is really in top condition. Some don't even need any lotion during PM treatment. Skin is full of nutrients and feels smooth & elastic.

PUERARIA MIRIFICA finally as 100% PURE capsule. These capsules contain ONLY cultivated Pueraria Mirifica miracle root. Pueraria Mirifica tuberous plant is unique and grows in Thailand, Burma and Laos. This 500mg Super capsule is only for Export. Most of the available research trials are done with 100% Pueraria Mirifica without other mixed tropical herbs. When Pueraria Mirifica is mixed with other herbs it's chemistry changes and some of the wanted effects becomes less potential. Weak herbs takes potency over and large percent of users may feel themselves allergic or getting even nausea, headache etc.

We know mother earth provides us wonderful herbs, plants for our daily use. Some body or sex drive enhancement type roots or plants works well alone but not mixed together. One herb alone can make much more than combining several herbs together. Chemistry changes..

These capsules are suitable to any person. If you feel you are "hyper allergic person" and you still want to try. Please take precaution with ANY traditional herbs. Give a try and make your own observations. First signs of effects are usually skin related. Facial skin feel less oily and more elastic. This usually happens after 10-30 days. Afterwards PM effects to breasts and starts to get firmer and Pueraria Mirifica does its miracle work.

PUERARIA MIRIFICA is not just for breast enlargement & firming. It also help to promote healthier skin. It's good to those women who suffer all kinds of skin problems. Hair growth is better and stronger after 3-8 weeks of daily usage. Scalp feels like "reborn".

MENOPAUSAL: This may be the best natural help to menopausal symptoms and alternative choice for HRT. You need to adjust the dosage until desired effects can be felt or seen. Your body needs to adapt to strong Pueraria Mirifica until you can enjoy its full benefits.

Not suitable for breastfeeding individuals.
---
DISCLAIMER: While we strive to obtain accurate product information, we cannot guarantee or ensure the accuracy, completeness or timeliness of any product information. We recommend that you do not solely rely on the information presented on this website and that you always read labels, warnings, and directions and other information provided with the product before using or consuming a product. For additional information about a product, please contact the manufacturer. We assume no liability for inaccuracies or misstatements about products. These products are not intended to diagnose, treat, cure, or prevent any diseases. Individual results may vary. The information provided on this website is intended for your general knowledge and is not a substitute for medical or treatment of medical conditions. Please seek advice from your physician or other qualified health care provider with any questions regarding a medical condition.
Save this product for later