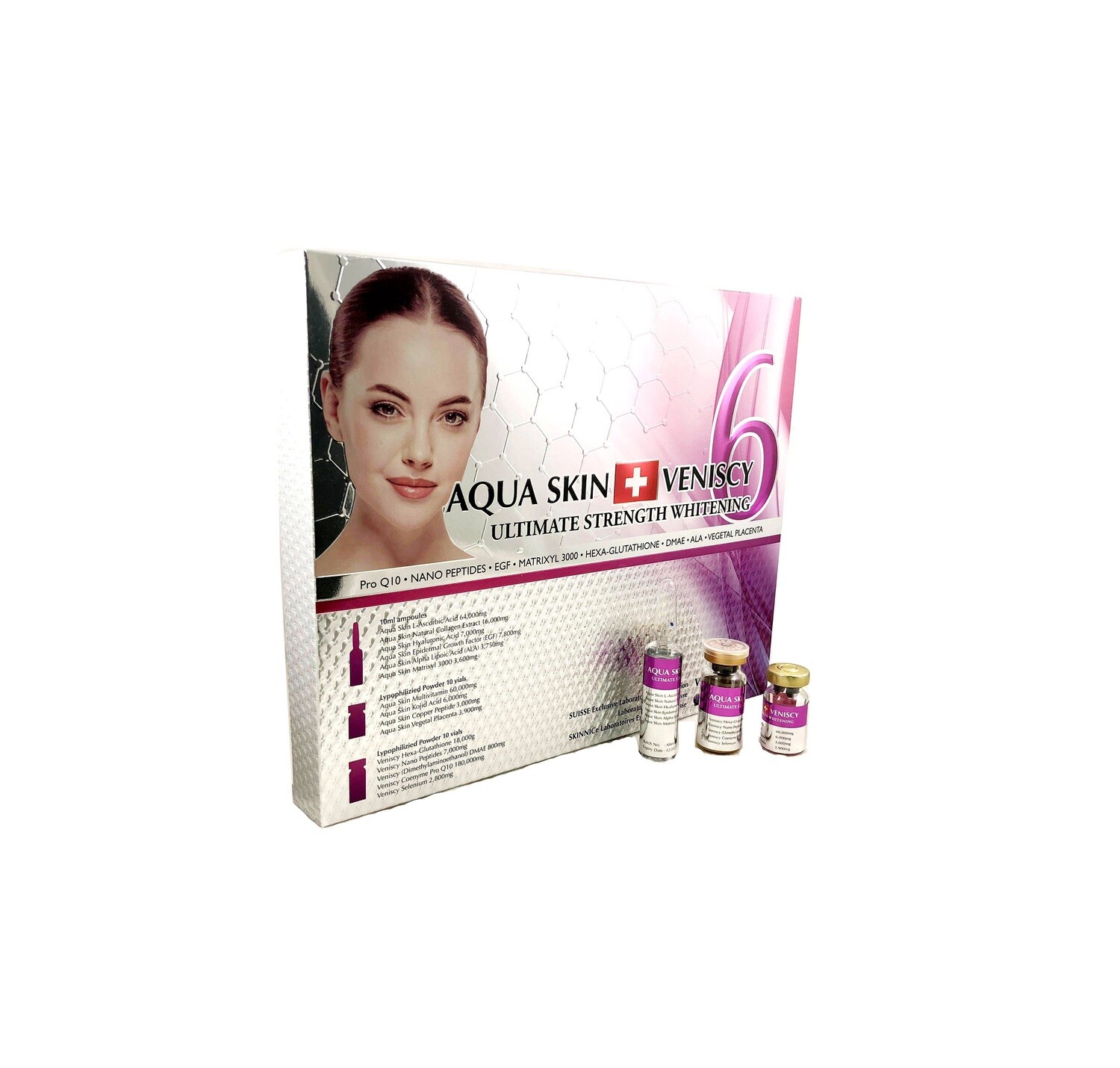 Aqua Skin Veniscy 6 Ultimate Strength Whitening Complete Glutathione IV Set x 10 vials
SKU WDPH0019
Product Details
Contains Glutathione which aides the neutralization of free radicals and reactive oxygen compounds, as well as maintaining exogenous antioxidants such as vitamins C and E in their reduced (active) forms.
Provides skin whitening, anti aging, immune system and health benefits.
Experience a brighter, smoother and flawless complexion.
*Anti-acne
*Reduces visibility of scars
*Reduce spots
*Firming
*Anti-aging to help skin stem cells
*Whitening improves skin lightening
*Antioxidant and detoxifier
*Improves metabolism
*Protective Collagen layer against UV
*Removes dark circles
*Help activate stem cells to rejuvenate the skin
Composition:
10ml Aqua Skin L-Ascorbic Acid – 64,000mg
Aqua Skin Natural Collagen Extract – 16,000mg
Aqua Skin Hyaluronic Acid – 7,000mg
Aqua Skin Epidermal Growth Factor (EGF) – 7,800mg
Aqua Skin Alpha Lipoic Acid (ALA) – 3,750mg
Aqua Skin Matrixyl 3000 – 3,600mg
Lypophilizied Powder:
Aqua Skin – 60,000mg
Aqua Skin Kojic Acid – 6,000mg
Aqua Skin Copper Peptide – 3,000mg
Aqua Skin Vegetal Placenta – 3,9000mg
Lypophilizied Powder:
Veniscy Hexa-Glutathione – 18,000g
Veniscy Nano Peptides – 7,000mg
Veniscy (Dimethylaminoethanol)
DMAE – 800mg Veniscy Coenzyme
Pro Q10 – 180,000mg Veniscy
Selenium – 2,800mg
Recommended Dosage: IM or IV, 1 set per week for first 2 months; then reduce to 1 set every two weeks for maintenance
Not Suitable For Breastfeeder. Injection on women period. Allergy to vitamin (any kind). Pregnant woman Patient with cardiovascular problem
Place of Origin: Switzerland
---
ADVISORY
1. All glutathione sets come with complete IV paraphernalia and vitamin C unless otherwise stated. All collagen sets come with complete IM sets. An additional vitamin C tray of 10 ampoules may be purchased.
2. Cash on delivery is available nationwide in the Philippines for orders of P10,000 and below. Orders beyond this amount are subject for approval.
3. All injectables should be administered by a licensed IV Therapist or Doctor.
4. We do not recommend self-administration.
5. We GUARANTEE authenticity of all injectables. We have been supplying to dermatologists, clinics, and spas since 2010.
6. Prior to any purchase of injectables, please read our INFORMED CONSENT SECTION especially if interested in HIGH DOSE Glutathione Drips.
---
DISCLAIMER: While we strive to obtain accurate product information, we cannot guarantee or ensure the accuracy, completeness or timeliness of any product information. We recommend that you do not solely rely on the information presented on this website and that you always read labels, warnings, and directions and other information provided with the product before using or consuming a product. For additional information about a product, please contact the manufacturer. This site assumes no liability for inaccuracies or misstatements about products. These products are not intended to diagnose, treat, cure, or prevent any diseases. Individual results may vary. The information provided on this website is intended for your general knowledge and is not a substitute for medical or treatment of medical conditions. Please seek advice from your physician or other qualified health care provider with any questions regarding a medical condition.
Save this product for later