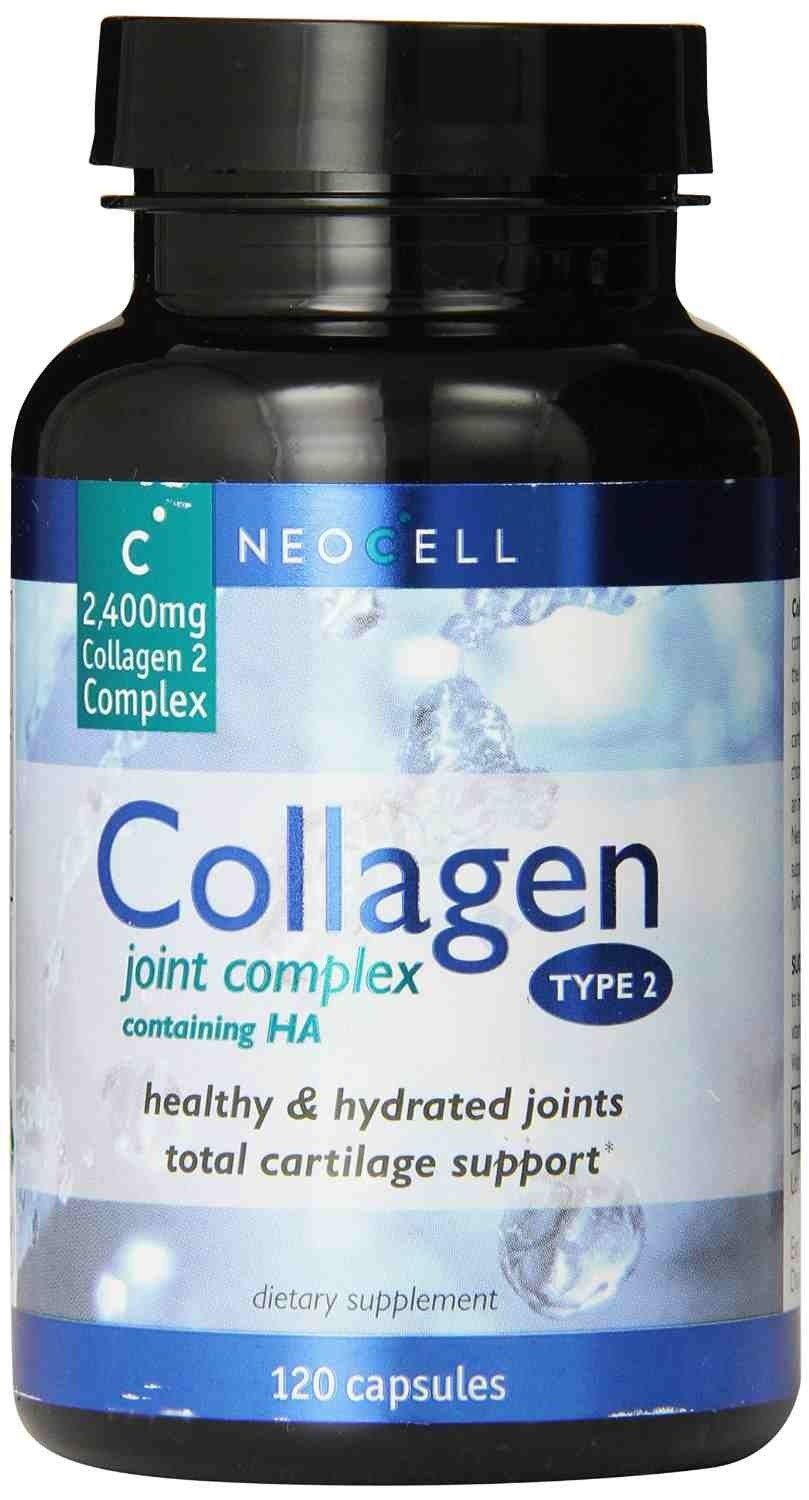 Neocell Collagen Type 2 Immucell Complete Joint Support Capsules, 2400 Mg, 120 Count
SKU AAO010
Product Details
NeoCell's Collagen Type 2 nourishes the joints with Collagen Type 2 protein, Hyaluronic Acid, and Chondriotin.
NeoCell's Collagen Type 2 Joint Relief Benefits
Collagen Type 2 provides essential nutrients for complete joint support. As we age, the body's ability to make the structural protein in cartilage tissue, Collagen Type 2, slows down. This is the protein needed to maintain and rebuild cartilage tissue. NeoCell's Collagen Type 2 is a naturally complete joint supplement that contains glucosamine, chondroitin, and hyaluronic acid which are key components of supporting and maintaining healthy joint function.*
Aging Affects the Body's Collagen Supply in Two Ways
1. As we age, the body's ability to make collagen protein slows down, so there is insufficient new collagen for skin, joints and other parts of the body.
2. Collagen fibers lose their moist texture and become rigid.*
Collagen Type 2: The Cartilage Protein
Collagen Type 2 makes up 50% of all protein in cartilage and 85-90% of collagen in articular cartilage.
The decrease in collagen production during the aging process often results in degradation of joint strength and health. This degradation is thought to be the reason that one out of every three Americans over the age of 60 suffers from Osteoarthritis.*
What is the difference between Collagen Type 1&3 and Collagen Type 2?
Scientific studies show that more than 90% of the collagen found in the body is Collagen Type 1&3. The protein composition consists of nineteen amino acids responsible for the growth and maintenance of the body with unusually high percentages of glycine, proline, and hydroxyproline, which are all found in the skin and muscle. Collagen Type 2 protein consists of eighteen amino acids, which amino acid profiles parallel the profile of the joint cartilage.
Collagen Type 1&3 and Collagen Type 2 should not be combined due to the types having different amino acid profiles. If taken together, the two proteins will bind and form a complete protein and the body will not recognize it as collagen. It is recommended that if you want to take both sources of collagen protein, it should be done at least an hour apart.*
---
DISCLAIMER: While we strive to obtain accurate product information, we cannot guarantee or ensure the accuracy, completeness or timeliness of any product information. We recommend that you do not solely rely on the information presented on this website and that you always read labels, warnings, and directions and other information provided with the product before using or consuming a product. For additional information about a product, please contact the manufacturer. Wellnessdepotph.net assumes no liability for inaccuracies or misstatements about products. These products are not intended to diagnose, treat, cure, or prevent any diseases. Individual results may vary. The information provided on this website is intended for your general knowledge and is not a substitute for medical or treatment of medical conditions. Please seek advice from your physician or other qualified health care provider with any questions regarding a medical condition.
Save this product for later