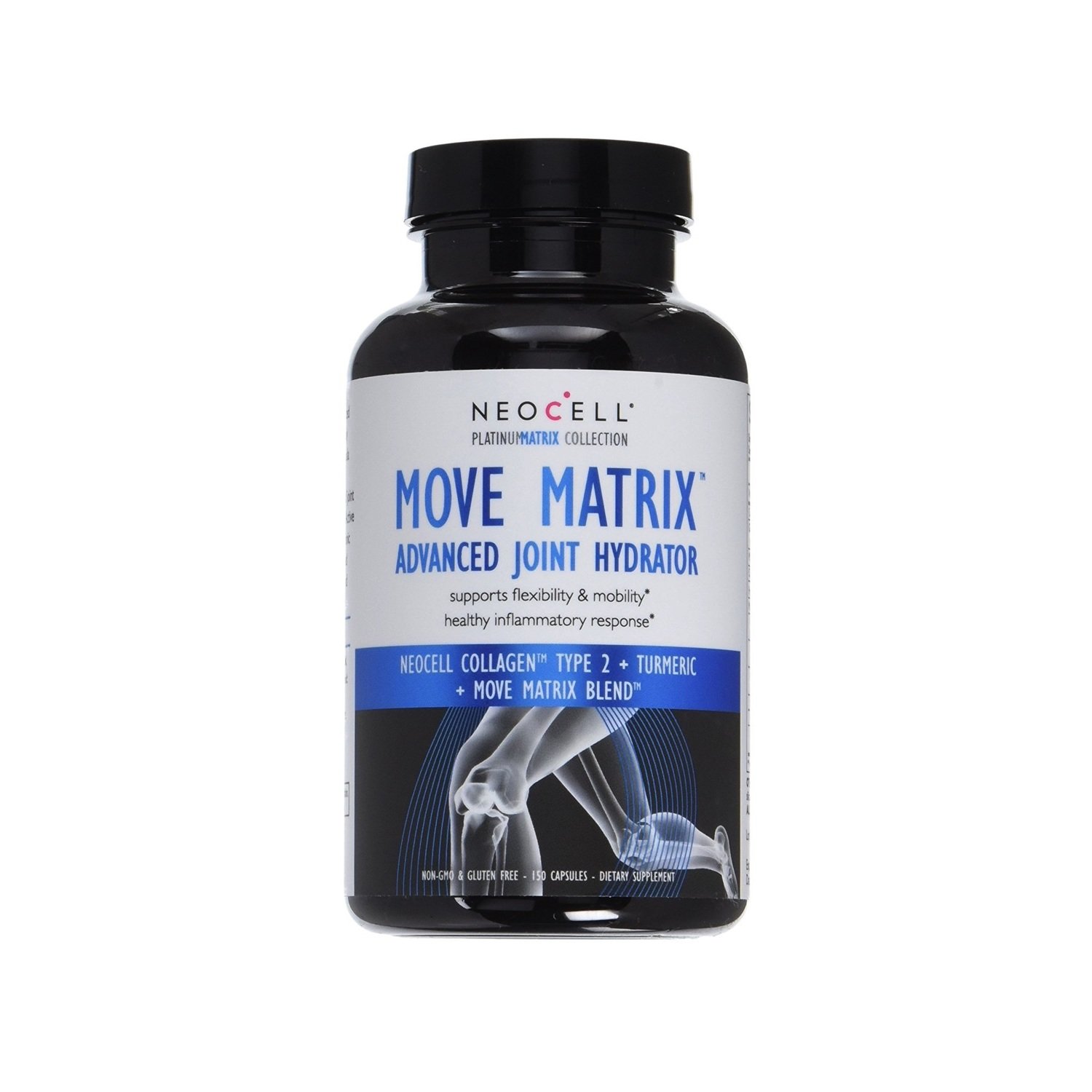 Neocell Joint Hydrator Move Matrix Advance Joint Hydrator 150 capsules
SKU AAO012
Product Details
NeoCell Move Matrix Advanced Joint Hydrator provides scientifically advanced ingredients that work synergistically in the body to promote healthy joints. This premium formula supports joint flexibility, range of motion, and a healthy inflammatory response. Like all neocell products, Move Matrix is standardized to be bioactive for potent absorption and efficacy.
Bioactive neocell collagen type 2 - The key structural protein of joint cartilage. 60% of joint cartilage is made of collagen type 2.

Hyaluronic Acid - A water loving molecule that provides joint cushioning and lubrication, due to its ability to hold 1,000 times its weight in water.

Glucosamine, Chondrotin & MSM - A combination of building block nutrients that contribute to the formation of healthy connective tissue.

Move Matric Blend - A blend of antioxidants and herbal extracts that support a healthy inflammatory response in the joints.
Quality Commitment
Promoting healthy collagen with the highest quality, most effective collagen and collagen related products on the market is Neocell's singular focus. Their cGMP facility in Southern California houses state of the art manufacturing equipment and an in-house, cutting-edge Research and Development Department.
Through a proprietary enzymatic process, all of their collagen products are standardized for maximum absorption. They guarantee the dosage of every active ingredient provides the highest level of functional bioactive support, often exceeding their competitor's dosage level by ten times. They are proud to apply pharmaceutical grade microbial, elemental and ionic purification processes to their collagen, which ensures unparalleled purity.
About Neocell

The therapeutic benefits of collagen have been widely recognized in Europe and Asia for decades. At NeoCell, we are proud to say that we introduced collagen to the Americas. Neocell was started in 1998 by founder and fearless leader Al Quadri after an extraordinary personal experience. Following a heart attack, Al endured triple- bypass surgery and a recovery that was slow and difficult. His muscles atrophied, and his usual energy disappeared. To recover Al understood that his future health depended on re-engaging his body's own potential for healing and rejuvenation. It was during his investigation of holistic therapies that he happened upon the unlikely remedy of collagen. Al learned of the integral role collagen plays in strengthening and rebuilding lost muscle mass and connective tissue. Within a few weeks, Al began to rapidly recover and regain his lost vitality.
Once fully recovered, a reinvigorated Al set out to understand the means by which collagen had stimulated his own regenerative systems, thus enabling his rapid recovery. For Al, this wasn't just a miracle. It was his life's calling- to make the same health and vitality Al experienced in his recovery accessible to everyone. His goal was to create products that allowed people to live younger, longer lives with abundant energy and wellbeing. And so Neocell was born, as a family-owned, research oriented business committed to introducing the world to a premium quality collagen-based supplement line.
Since their founding they have been continually enhancing their manufacturing processes so they are able to offer their customers the most bioavailable and bioactive collagen peptides on the market. They are proud to say millions of people have benefitted from our efforts and are now living a more youthful life. Today, NeoCell is the #1 collagen brand in the world and a leader in the field of nutritional science. While they have grown considerably over the years, one thing has never changed – their commitment to finding the most innovative and effective nutraceutical supplements.
---
DISCLAIMER: While we strive to obtain accurate product information, we cannot guarantee or ensure the accuracy, completeness or timeliness of any product information. We recommend that you do not solely rely on the information presented on this website and that you always read labels, warnings, and directions and other information provided with the product before using or consuming a product. For additional information about a product, please contact the manufacturer. Wellnessdepotph.net assumes no liability for inaccuracies or misstatements about products. These products are not intended to diagnose, treat, cure, or prevent any diseases. Individual results may vary. The information provided on this website is intended for your general knowledge and is not a substitute for medical or treatment of medical conditions. Please seek advice from your physician or other qualified health care provider with any questions regarding a medical condition.
Save this product for later