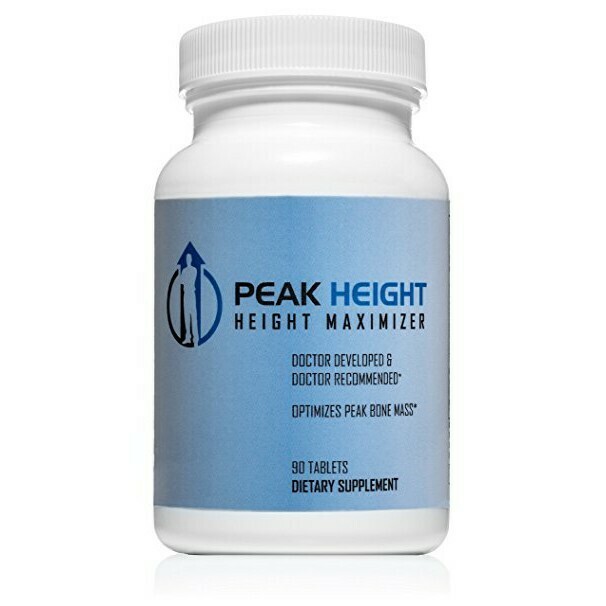 Peak Height - Height Maximizer 90 tabs
SKU WB007
Product Details
Peak Height is a Doctor designed nutritional supplement to increase height. It contains optimal amounts of nutrients that have been scientifically proven to increase height.
1. Bone lengthening and growing taller occurs at the growth plate in your bones.
2. Growth plates are only open during childhood & teenage years.
3. Around age 23, your growth plates close making further height gains impossible
4. Your bones need specific amounts of vitamins, minerals, protein, & growth factors to grow to their maximum length (making you taller).
5. Peak Height provides your nutrient hungry bones with optimal amounts of many nutrients to enhance their growth.
Recommended starting dose is 6-12 months. Taking Peak Height for a longer period of time increases your growth potential. For maximum height increase take Peak Height pills over the length of your adolescent growing years, ages 11-22. Take three height pills in the evening with food.
What are the risks involved in taking Peak Height?
Peak Height contains vitamins, minerals, & amino acids found in everyday foods. The amount of each ingredient in Peak Height is well below the upper daily intake level published by the National Institute of Health. Please visit their website NIH for further information. Peak Height does NOT contain any stimulants, HGH, or steroids. As with any nutritional supplement, you should consult your doctor before starting. We recommend taking Peak Height with meals to prevent any possible upset stomach as with any vitamin.
Full List of Ingredients, Guaranteed SAFE & EFFECTIVE*:
Vitamin D3 as cholecalciferol
Dl-alpha tocopheryl acetate
---
DISCLAIMER: While we strive to obtain accurate product information, we cannot guarantee or ensure the accuracy, completeness or timeliness of any product information. We recommend that you do not solely rely on the information presented on this website and that you always read labels, warnings, and directions and other information provided with the product before using or consuming a product. For additional information about a product, please contact the manufacturer. Wellnessdepotph.net assumes no liability for inaccuracies or misstatements about products. These products are not intended to diagnose, treat, cure, or prevent any diseases. Individual results may vary. The information provided on this website is intended for your general knowledge and is not a substitute for medical or treatment of medical conditions. Please seek advice from your physician or other qualified health care provider with any questions regarding a medical condition.
Save this product for later